Name
Tammie Caulett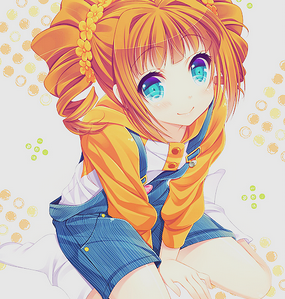 Age
16
Gender
Female
Occupation
SILPH Trainer/Rebel
Personality
With a bright exterior, Tammie always appears to be rather cheerful despite the grim environment of Sympho. She prefers to look on the bright side of things, feeling that dwelling on problems or mistakes will only serve to make life miserable. She believes on taking full advantage of any moment of peace and tranquility to simply sit and draw, appreciating the beauty around her and transcribing it into her artwork. Despite coming across as happy on the outside, Tammie does have her inner demons and moments of sadness, especially when something reminds her either of her original parents, or the family friend that took care of her after they died.
Appearance
Tammie is a female of pale complexion. She has bright ginger hair, a colour that one might outright call orange, which she wears in a rather messy ponytail. Standing of rather average height, Tammie isn't really anything special. She has a slender stature that one might call attractive. Her bright blue eyes are a rather stark contrast to her fiery hair. Tammie tends to wear rather casual clothes, her favourite shirt being a white one with orange sleeves that almost match her hair colour.
History
Roughly a year old on the Perish Day when Meloetta unleashed her fury and hatred upon the Sympho region, Tammie does not remember much at all from before the plagues. The only memories she has from that time are faded photographs taken from her younger years and scattered objects that once held sentimental value to her parents. Tammie's parents were both trainers, found and taken away to be forced into training as part of the military. Unfortunately both died in the many wars that these trainers were forced to participate in, leaving Tammie an orphan at age four.
After her parents had been forced into the military, Tammie was left with no one to look after her at a rather young age and found herself aimlessly wandering in the streets after agents of the government left with her parents in tow. She had hidden in a closet when the soldiers arrived and hadn't dared come out for hours after they left, when she was soon found by a family friend and was taken in, being raised by her until about age eight. At this time, Tammie's adopted parent was killed in a car accident, leaving her alone once more. The other person in the accident was a SILPH mercenary. He escaped unscathed but felt so guilty about accidentally killing Tammie's makeshift parent that he took her in and cared for her. He helped teach her how to take care of Pokemon and taught her the dangers of each plague as well as the dangers of revealing oneself to be a trainer. At age 15, he finally allowed her to have her own Pokemon, a female Treecko which Tammie named Twayblade. Now 16, she hopes to help SILPH fight for freedom, as well as seek out the elusive Elite Four and the project to find a cure.
Extra
Tammie dedicates her spare time to drawing. Having pretty much only known this grim world infected by the plagues and the war between two vastly powerful groups of people, she likes to imagine what a carefree place it must have been before all this. Her art reflects these idealistic thoughts, often being full of colour and beauty.
Inventory
10x Pokeball
2x Potion
Sketchbook & Art Supplies
General Travelling Equipment
Character Type
Nuzlocke
Pokémon Partner
Name
Twayblade
Level
5
Species
#252 Treecko the Wood Gecko Pokémon
Moveset
Pound, Leer
Ability
Overgrow
Nature/Personality
Twayblade is a rather calm and collected Treecko. She always remains quite rational despite the situation and is a perfect compliment to Tammie's cheerful outlook on things. Being rather calm, Twayblade is also quiet, though not at all timid. She usually does not say much, and her feelings are usually visible from her actions and behavior.
Gender
Female
Disclaimer; Pictures used are not mine.